So here's what I get for moving my office: silence.
Up until this weekend, I was officing from the red room with a glorious view of the pasture and the perfect vantage point for keeping watch over my flock. But over the weekend I moved into the home office which is in the interior of the house and without a view and so it was that I missed 45 minutes of Ann-Margaret's cries earlier this afternoon. Marty did hear her, but figured she was hungry and brushed it off.
Lucky for me I wanted a cup of tea and lucky for me that I went into the kitchen and looked out the window and noticed my little Ann-Margaret missing. And so, anticipating birth, I threw on some shoes and ran outside where I indeed noticed Ann-Margaret laying down behind the picnic table. And then I noticed the little white legs near her head. At first 4. Then 8. There were 2 little kids who had already made their way into this world. I tried to motion to Marty who was in the kitchen.
"We have babies," I shouted. I approached closer to examine the scene. It was then that I noticed the third kid.
WARNING: READ NO FURTHER IF GRAPHIC DESCRIPTIONS OF GOAT BIRTHS FREAK YOU OUT.
I suppose if I was a veterinarian or remotely experienced in the ways of goat births I might not have panicked. But I did. Because towards Ann-Margaret's rear, there was the 3rd kid in a puddle of gelatinous goo. I couldn't tell if it was alive, breathing, drowning or what. Ann-Margaret was focused on her other 2 babies and was paying no mind to this one. I freaked.
I somehow managed to get Dixie and Nugget up in stalls (couldn't be bothered with Elvis), race into the house, grab my phone, grab the Nutri-Drench (a nourishment supplement I purchased back in the spring before Nugget was born that I never used but somehow thought might come in handy), and call the vet in all of about 60 seconds.
In hindsight, I believe that the 3rd kid had just been delivered. As Dr. Bob later explained, it was still in the sac it had spent the last 145 - 155 days gestating in. Barehanded, I wiped it clean and cleared its throat so it could breathe. Somewhere in this 3 minute span, Marty called our neighbor Steve to help (Steve was the one who held down Elvis while Dr. Mary snipped him in September), Steve showed up, and Marty came out with a towel and scissors. Steve cut the umbilical cord and we placed the soaking wet kid in front of its mother who promptly started licking it clean.
I pause here to say how much nature and instinct amazes me. As much as I wanted to interfere, I didn't have to. Ann-Margaret cleaned her babies one by one. When she was ready, she stood and again, one by one they found their way to her nipple and took that precious first sip of mother's milk (although one needed just a little bit of guidance). Ann-Margaret was calm, attentive, loving, tired, gentle, sweet and motherly.
When she was ready, it was easy to lure her into a stall with a dish of feed and she didn't panic when we picked up her newborns and carried them in to be with her. She ate and nurtured and cleaned and nuzzled.
She's been calm each time I've gone into the stall to check on her and the little ones. She lets me pet them. She lets me pet her. She doesn't mind when I help guide them to her to feed (only the 1 seems to have nursing down- the other 2 are a little slow).
I confess, I am worried. Three kids are not normal. There's only 1 Ann-Margaret and she's only got 2 nipples which means the least aggressive could lose out on precious feeding time and other important nurturing. Then again, maybe they'll all be okay. I am trying to be of the "let nature take its course" school but I think I am more of the "if I have to bottle feed one so it survives I absolutely will" school. Does that make me a bad person?
We don't know the genders but we've picked out temporary names. Photos follow! All in all it was a glorious, miraculous, spectacular day and I am so glad, that this time, I didn't miss it.
<
Temporary names: Coco - dark brown on far left. Spitting image of Nugget. Last one born/the one I helped with. Junior in the middle. We think it's a boy. Confident, sure and the spitting image of its dad. Peanut on the far right. Looks like mom and still a little shaky.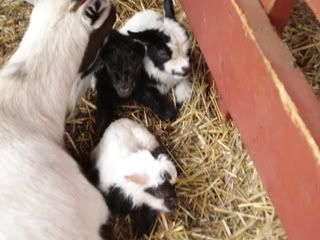 Ann-Margaret mothers her newborns.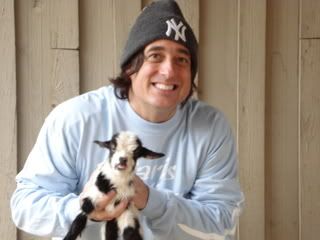 Marty poses with Junior.
And if that ain't country, I'll kiss your...