We have had our hands full and therefore I have not had much time to write much about anything that's going on. Just to clarify the recent chain of events:
2/4 - Ann Margaret gives birth to triplets - 2 boys, Buster and Peanut, and 1 girl, Lucky.
2/6 - Ann Margaret rejects her daughter and we bring her into the house and start bottle feeding her and raising her until she is weaned and big enough to go out into the pasture and defend herself (roughly 6 - 8 weeks).
2/12 - Nugget gives birth to a baby boy and yes - Elvis is the father but we don't discuss it. We're calling the baby Surprise Steve.
It's now been 2 weeks. Lucky is thriving in the house. She bottle feeds and runs and jumps and plays. She thinks I am her mom - it's kind of cute.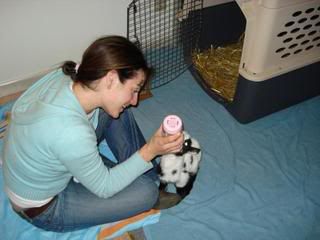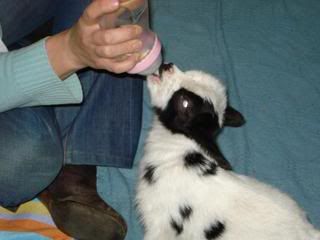 We try to get her outside for at least a few hours a day so she'll start grazing. Unfortunately, like any newborn she does not like to be left alone and I have a job so I can't spend all day with her so this has been a challenge.
Buster and Peanut are thick as thieves. They are completely inseparable. It's heart warming to watch them learn and discover and figure things out.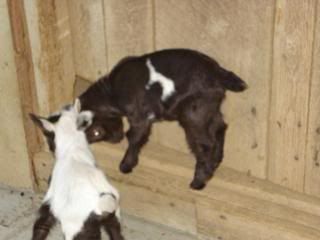 We've been out of town for a few days but I think that Surprise Steve is getting along with his half brother nephews well. As always, it makes me sad Lucky does not have any one to play with (believe me, she's tried with both Tony and Sebastian and they are just not interested). Apparently, our friend who was housesitting took her out to the pasture and the reaction from Ann Margaret was pretty violent which does not bode well. I'd still like to see if we can get her to play with the other little ones.
I am absolutely swamped but wanted to give you all a proper update. Between 6 bottle feedings a day, house training and a long overdue trip to NYC, I haven't written much and I apologize. More to come...
And if that ain't country, I'll kiss your...