Snowy Pastures, Soggy Donkeys, & Stroganoff
It snowed last night and when I woke up this morning, this is what I saw:
It was beautiful for a brief spell but it was also raining when I woke up so soon the snow started to get slushy and melt. Meanwhile, my poor Dixie Mae didn't know what to do with herself. She normally grazes all day long but having 2 - 3 inches of snow in the pasture threw for her a loop. Still, the rain was not a deterrent and she spent most of the morning wandering in hopes of finding something to nibble on. See how soggy she is?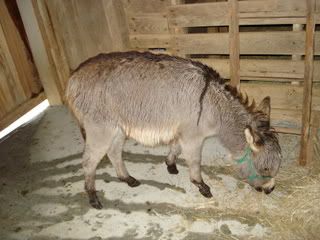 And speaking of snow, I have to share my recipe for Chicken Meatballs Stroganoff because the snow and Stroganoff are sort of related. Here's the story.
The day before the Blizzard of 2006, when we were living in Hoboken, I went to the grocery store but didn't buy food. I bought laundry detergent. Shampoo. Ziploc bags. But I did not think to stock up in anticipation of the storm.

When I awoke the next morning to 15 inches of snow and more still coming down, I panicked. Even if the grocery stores were open, would I be able to wade through the knee high snow to get there? And if I got there, would they have anything? So I defrosted a pack of ground chicken and figured I'd figure it out later.

That afternoon, after several beers in a cozy oak bar a few blocks away, Marty and I began to get hungry. It was cold and wet and we wanted something hearty and satisfying. I suggested chicken meatballs and hoped the deli across the street had canned tomatoes (believe it or not, a kitchen staple missing from my pantry). Marty liked the idea of meatballs but suggested that instead of red sauce, we make a brown gravy - more like Swedish meatballs.

The following dish resulted from what little we had in our pantry and our own creativity. It was one of the best dinners ever - and totally hearty and satisfying.
Chicken Meatballs
1 lb. ground chicken
2 eggs
2/3 cup breadcrumbs
1/2 cup ground Parmesan
1 tsp. dried parsley
2 tsp. chopped garlic
2 tsp. lemon juice
Cajun seasoning (or salt & pepper) to taste
Preheat oven to 400.
Mix all of the ingredients together well and form meatballs. Should yield ~ 16 - 18 meatballs. Fry in vegetable oil in 2 batches until brown and crispy on the outside, 8 - 10 minutes per batch.
Place in a baking dish and bake for an additional 10 - 12 minutes until cooked all the way through.
Gravy
I confess - we used packaged gravy and jazzed it up. We like Tony Chachere's brown gravy mixture. Mix 4 tablespoons of gravy with 2 cups of chicken stock and prepare according to package instructions. Add a big handful of dried herbs, 2 tablespoons of sour cream and 1 tablespoon of butter. Salt and pepper to taste (be generous with the pepper). Add some Wondra flour for a thicker sauce.
Serve meatballs and gravy over a big plate of egg noodles.
Delish and perfect for a snowy night any time!
And if that ain't country, I'll kiss your...