Our Very Own Disney World - Right Here in NC
So Marty & I drove to Asheville on Friday and spent the day (and the night) at
the Biltmore Estate
, North Carolina's very own answer to Disney.
Ok - so there aren't any rides or characters walking around, but everything about our 24-hour experience - from the sheer volume of visitors to the timed entry to the price tag on just about everything (except the house of course) - reminded me of Disney World. And for those of you wondering how a 30-somethinger with no kids knows about Disney, the answer is because Marty and I have gone 8 out of the last 9 years so I know of what I speak (or in this case, blog).
The first problem was with our tickets. I had tried to be efficient and went online a few weeks before the trip and bought our admission tickets. These gave us access to the house (via timed entry - more on that later), the grounds, the gardens, the winery - everything. What I failed to process was that there was distinction between regular daylight access and Candlelight at Christmas - which was a whole separate ticket. This came up Thursday night at
dinner
and so first thing Friday morning, I was on the phone to the Biltmore trying to figure out options.
The phones. Just like Disney - one main number to call and then you wait for 10 - 15 minutes for "a host" to answer your call. It's one stop shopping from buying tickets to making dinner reservations to booking hotel rooms. My host informed me that we could upgrade from our daytime tickets to candlelight tickets, but we had to do it in person at the ticketing center at the estate.
She also explained the concept of timed entry. Even though we had tickets for Saturday, we needed to get up early Saturday morning and go to a tent on the lawn in front of the house and get a ticket for the exact time we could actually enter the house. Sort of like
Fastpass
. She warned me to get there early because they did run out of timed entry slots and it was quite possible that we could have tickets to the Biltmore but be denied access to the house (frankly - the whole reason we were going) at which point we'd have to be satisfied with all of the other attractions.
As it turns out, most of this was a non-issue. As guests of the on-site hotel, we didn't need timed entry - we could just flash our little guest card and enter whenever we wanted (sort of like staying on-site at Universal in Orlando); however, we didn't find this out until after we had arrived at the estate, stopped off at the Ticket & Welcome center (so Disneyesque), upgraded from daytime to candlelight, checked into the hotel, and sat down with the concierge who politely informed us of this little perk.
So the house is spectacular and you all should go see it. We saw it at night, all decorated for Christmas, with beautiful trees in every room, and lots of garland and lights and candles. I can't imagine it any other way but Christmas only comes once a year and the house is open 365 days a year so whenever you make it to Asheville, work this into your trip.
Yesterday, we got up and drove around the grounds and hit most of the other sites. We stopped off at River Bend Farm which was very cool and they did have animals (although not as cute as ours).
We went to the winery, skipped the tour (if you've been to one winery, you've pretty much been to them all) and the tasting but walked around the ginormous retail shop which Marty & I both said reminded us of the shopping at Epcot.
We went back to the house to see it once more in daylight. We skipped walking through it a second time, but stood on the lawn and took pictures like all the other tourists.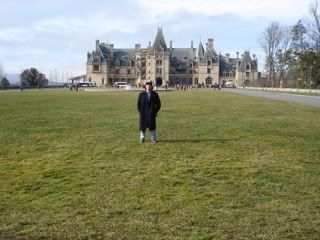 I wanted to check out the gift shop at the house but there were way too many people so instead we waited on line for 10 minutes for a hot dog for lunch.
We drove through the Conservatory (not much to see in the winter) and wound our way throughout pretty much the entire estate in order to ultimately exit and be on our merry way.
All in all it was beautiful and quite fun and since we didn't make it to Orlando this year (the first time in 9 years we've missed it), this was a pretty good substitute to scratch the Disney itch.
And if that ain't country, I'll kiss your...