A Tribute on Veterans Day
I am proud! Busting at the seams, big smile on my face, call-everyone-I-know and post-it-on-the-blog proud. On the main page of
Yahoo
, on the "Featured" tab, usually reserved for the antics of Britney Spears or, as early as this morning, talking about how to manage inter-office romances, is a picture of my Uncle Icky. Veteran. American. Hero. And my uncle.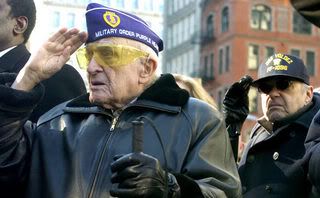 Surely this moment will be fleeting. Perhaps a few more hours - or even through the rest of the day. But then Veterans Day will pass and the "Featured" tab will feature someone or something else more relevant. But right now, at this very instant, millions of people are clicking onto the Yahoo homepage and millions are seeing my Uncle Icky's yellow-bespectacled face. And I couldn't be prouder.
For those of you who may not know Uncle Icky, my dad recently gave
a brief interview
for Bloodthirsty. In it, he was asked, who's your oldest friend? This was his response:
My Uncle Icky. His real name is Irving Ziffer, and he's the basis for Ziff the Sniff, the narcotics detective in my books. Technically he's my blood relative, but he's still a lifetime friend. He's 89 years old, a decorated World War II hero, who fought in the Pacific for five years, was wounded once, recovered, then insisted on going back to the front lines, where he earned another Purple Heart. He is legally blind, dependent on two hearing aids, but doesn't let anything stop him from living life to the fullest. He is my friend and my hero. He was a travelling salesman who took me on road trips, taught me how to drive a car long before I was of age, introduced me to horseracing, and is still quick with a dirty joke. My wife is his health care proxy, and his instructions to her are as follows: "If I'm lying in the hospital plugged into a resuscitator, put a pair of dice and bottle of Johnnie Walker Black on my chest. If I don't move, pull the freakin' plug."
I couldn't have described Uncle Icky any better (or any funnier for that matter).
God bless all of our veterans and all of our men and women in the armed forces today. Thank you for what you do.