A Saturday in the County in 2 Chapters
Chapter 1 When We Go The Fair
Mom and dad
came to visit us this weekend and Saturday morning we took them to the Cleveland County Fair.
It was pretty much your typical county fair - funnel cake and cheeseburgers and livestock and rides on the midway and...tractor pulls. That's right kids - I went to my first tractor pull. For full details on what a tractor pull actually is,
check out this link
(I'm too busy watcing the Yankees vs. Indians to write in much detail). Other than that, isn't it enough to know that I went to a tractor pull...and actually liked it?
Photos from the fair follow:
The Sled
Scenes from a Tractor Pull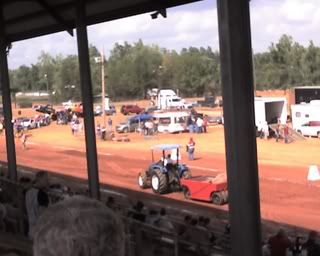 More Scenes from a Tractor Pull
Some Very Large Pumpkins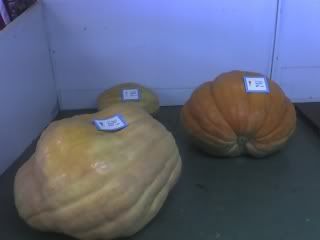 The biggest is 440 lbs. What? You don't believe me?
Also, Some Very Large Watermelons (the largest was 140 lbs)
Some Awesome Produce
And Finally, the Goat Booth
Lastly, I'd add that in addition to everything I've already mentioned, perhaps my most favorite part of the fair was the color game. Normally, whenever I've played the color game at fairs in the Northeast, I've plunked a quarter (or maybe 50 cents)on a color (the more choices the better) and then someone throws a ball and it bounces around a giant grid and hopefully lands in a slot with my color (sorry - Wikipedia doesn't offer a handy description for what I call the color game). Anyways, in the South, they spin a giant wheel and stick a white rat in a tin cup in the center and then the rat crawls out of the cup and runs into a hole and whatever hole he runs into is the color that wins. Ok, maybe not the best description, but still...
...if that ain't country, I'll kiss your...