City Goats Meet Country Goats
Mom and Dad came to visit this weekend. And while it was not their first trip to North Carolina (I spent 4 years at Duke - they were here for the obligatory parents weekends and of course, graduation), it was their first trip to Lincolnton. Actually, it's usually anybody's first trip to Lincolnton when they come to visit.
The ironic thing of course, is that we spent very little time in Lincolnton. They arrived Saturday afternoon in Charlotte and we spent a few hours in the city having lunch, walking around and picking up some gourmet goodies at Reids.
After a leisurely drive home on the back roads through the country (designed for maximum viewing of cows, horses, silos, bales of hay and other quintessential If That Ain't Country signs of life), we arrived home in Lincolnton. However, we didn't actually see any of the town as Marty and I live right on the border of neighboring Maiden and that's the direction we came from.
Introductions to the grand-goats came next followed by a tour of the house followed by much needed naps for everyone.
We had dinner in Sherril's Ford out on Lake Norman. This entailed driving along more picturesque country roads (now in the dark) and didn't involve Lincolnton.
We didn't actually make it into town until Sunday. With so little to see Marty & I found ourselves narrating every little potential point of interest:
Me: There's the discount strip mall anchored by Fred's and Big Lots.
Dad: They have a Beeper World? Does anybody carry a beeper any more?
Me: I don't know. I never really thought about it. But this is Lincolnton.
or...
Marty: There's our CVS.
Silence. Like anybody cares where we buy toothpaste and shampoo.
The highlight was of course Bojangles - where dad wanted to stop for chicken but where the full parking lot and the line of 10 cars in the drive-through screamed: It's 12pm on Sunday. Church just let out. Do you really want to go to Bojangles???
Including the stop for gas, we probably spent less than 10 minutes in Lincolnton. We didn't stop and get out and walk around which should tell you a little more about where we live.
We drove up to Hickory for lunch and ate at Circus Hall of Cream.
Circus Hall of Cream has been around forever. Marty remembers coming down from NJ when he was a kid to visit his grandparents, and a stop at Circus Hall of Cream for a milkshake was always the first thing on the agenda.
Circus Hall of Cream is painted in garish red and yllow stripes - like a Big Top. It's on the side of a busy stretch of road in Hickory and serves up a bare bones menu - hot dogs, burgers, chicken fingers - and plenty of cool and creamy treats. There's a walk-up window, a drive-thru window and a scattering of picnic tabls outside. They also have a handful of tables and chair on the indside - the chairs have these plasticy, vinyl cushions printed with red, green, yellow and blue balloons.
It's not much in the way of atmosphere - but the food and milkshakes are excellent. They are known for the footlongs and that's what we ordered. Mom was brave and ordered hers "all the way" which in North Carolina means mustard, slaw, onions and chili. Dad stuck to his NY roots and ordered his footlong grilled with saurkraut.
The chocolate milkshake was essentially soft serve ice cream with a tiny touch of milk - just enough so you could suck it up through a straw.
After lunch we headed up to Blowing Rock in the mountains and spent a few hours walking around town, popping into touristy shops. We got some more ice cream at Kilwins and penny candy at the General Store.
The weekend wrapped up with mom and dad feeding the goats when we got home Sunday afternoon.
Following are some photos of the city goats and the country goats: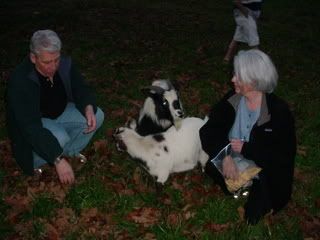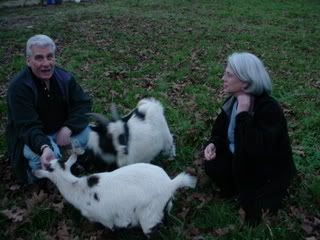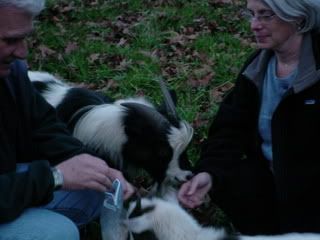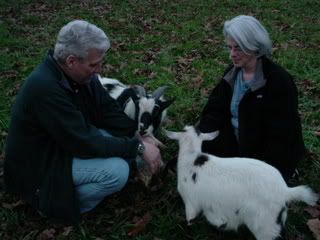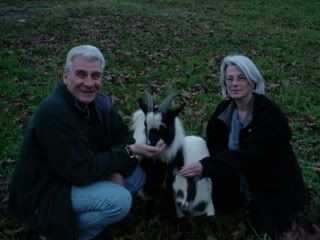 And if that ain't country, I'll kiss your...